February Communications Clinic
February 15, 2013 | Online
Communications Clinic: "Cultural Strategies for Social Justice"
Featured Practitioner: Favianna Rodriguez
Friday, February 15, 2013 – 9am PST/12n EST
About This Month's Clinic
Cultural organizing is a powerful way to place art and other forms of creative expression at the center of social and political change.  By drawing on the collective resources and history of our communities, we can harness the tools and languages that build power for communities of color.
In this first monthly clinic, participants will get feedback from experts, troubleshoot challenges, and exchange best practices on cultural organizing for social change
About Favianna Rodriguez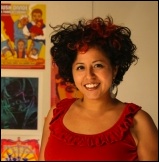 Favianna Rodriguez is a celebrated printmaker and digital artist based in Oakland, California. Using high-contrast colors and vivid figures, her composites reflect literal and imaginative migration, global community, and interdependence. Whether her subjects are immigrant day laborers in the U.S., mothers of disappeared women in Juárez, Mexico, or her own abstract self portraits, Rodriguez brings new audiences into the art world by refocusing the cultural lens. Through her work we witness the changing U.S. metropolis and a new diaspora in the arts.
Hailed as "visionary" and "ubiquitous," Rodriguez is renown for her vibrant posters dealing with issues such as war, immigration, globalization, and social movements. By creating lasting popular symbols – where each work is the multiplicand and its location the multiplier – her work interposes private and public space, as the art viewer becomes the participant carrying art beyond the borders of the museum.
Overview
Communications Clinics are sixty minute free telephone based group coaching sessions that provide participants' access to communications expertise and peer-based support. Through storytelling, question and answer periods with experts, and a facilitated tips and tools exchange, communications clinics are a timely and efficient way to brainstorm communications solutions; get expert feedback and advice on media strategy; and exchange best practices or request additional support.
Back to Events
close
New America Foundation Panel: The Open Internet Goes to Court (featuring National Organizer Steven Renderos as one of the panelists)